From the Blog
Governor Cooper to Headline 61st Annual Convention
We are excited to announce that North Carolina Governor Roy Cooper will be the headline speaker at our 61st Annual Convention, September 20-21 in Raleigh! Join Governor Cooper there and be part of building a bigger, more engaged, more powerful labor movement able to win victories for North Carolina working families! Delegates who register by this Friday, August 17th qualify for our discounted "Early Bird" rate. Read more.
---
Duke Professor Amy Laura Hall: Make "Labor Union" Sense Common Again
"When people ask why I spend some of my very rare free hours advocating for labor unions in my new home state, the answer is simple. I want labor union sense to be again this region's common sense." Read more.
Share this post on Facebook and retweet this tweet.

---
Missouri Voters Overwhelmingly Repeal "Right to Work"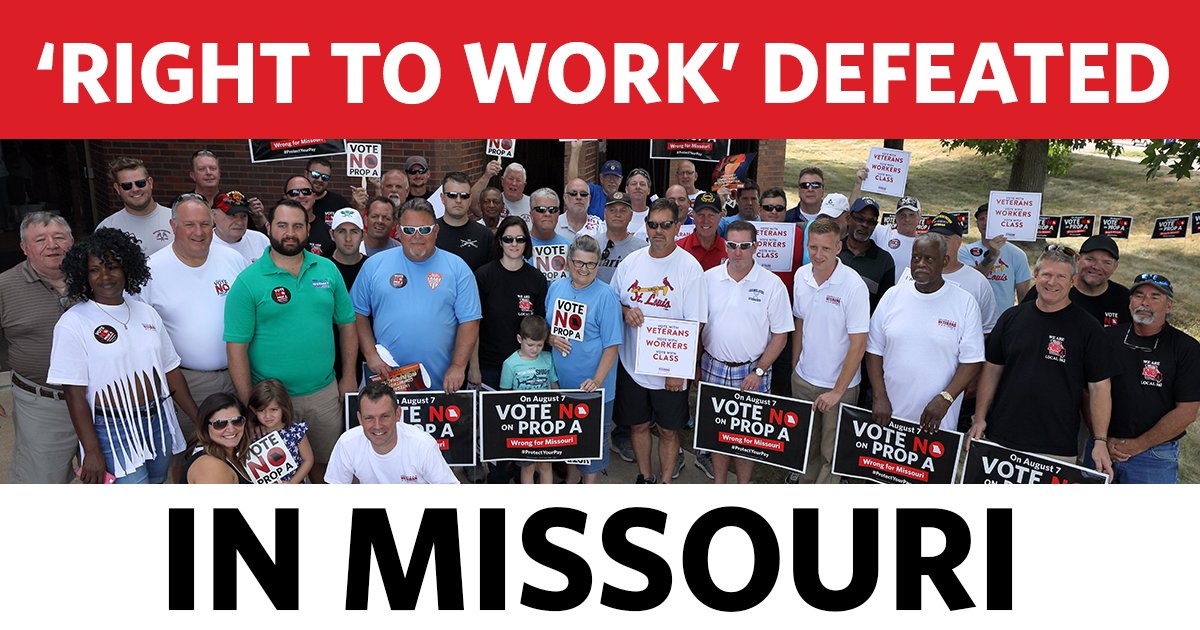 "Unions just upset the calculus of the Koch brothers and their corporate allies by winning a landslide victory for labor rights." Read more.
Share this video post on Facebook and retweet this tweet.
---
Hotel and "Early Bird" Convention Deadlines this Week
Friday, August 17th is the last day for delegates and alternates to register for our 61st Annual Convention and still qualify to pay the discounted "Early Bird Rate" of $100. Registrations received August 18th through September 14th will have to pay the "Standard Rate" of $125.
Saturday, August 18th is the deadline to reserve hotel rooms at the Hilton N. Raleigh/Midtown and still get our discounted group rate, subject to availability. Read more.
BOOK YOUR HOTEL ROOM NOW ONLINE at Hilton.com

NEW FOR 2018: BUY TICKETS ONLINE at Eventbrite.com
REGISTER GUESTS or FOR OUR NEW VENDOR EXPO at AFLCIONC.org
---
Take Action
Keep Calling On Senators to Reject Brett Kavanaugh
Make the call TWICE to tell both Sen. Tillis and Sen. Burr you oppose Brett Cavanaugh's nomination to the Supreme Court!

USE this tool to quickly write Sen. Tillis and Sen. Burr to stop Brett Kavanaugh!
---
News that Works
A Huge Win for Organized Labor in Missouri
How "right to work" went down on the ground in Missouri
Missouri's Working People Overwhelmingly Reject Right to Work
I support labor unions, because collective bargaining makes us stronger
Belabored Podcast #157: What's a Strike and How Can I Help?
Kavanaugh Sided With Trump Casino in 2012 to Thwart Union Drive
D.C. transit union: No special subway cars for white supremacists!
Trumka: 'Working People Are Taking Matters into Our Own Hands'
Trump Appointees Are Pushing a Deregulation Plan That Could Dramatically Erode Consumer Protections
"You Can't Eat GDP": Workers Struggle as Trump and Corporate Media Tout Economic Growth
Report: North Carolina's latest state budget fails to effectively address N.C.'s existing and emerging needs
Federal court blocks mass voter purges in NC after NAACP sues
---
Upcoming Events
August 17: "Early Bird Rate" for 2018 Convention expires
August 18: Convention hotel rate expires
August 23: Reversing Runaway Inequality training in Charlotte
September 3: Charlotte Labor Day Parade
September 14: "Standard Rate" for 2018 Convention expires
September 19: NC AFL-CIO Executive Board meeting
September 20-21: NC AFL-CIO 61st Annual Convention
October 12: Registration deadline to vote on Election Day
October 17: One-Stop Early Voting begins
November 2: One-Stop Early Voting ends
November 6: Election Day